Possible sports gambling in New Jersey is not expected to alter NFL's Super Bowl plans
Posted on: Sat, 05/26/2012 at 12:42am
Possible sports gambling in New Jersey is not expected to alter NFL's Super Bowl plans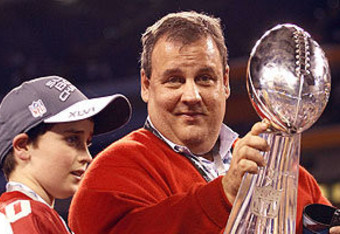 The NFL has a long history of opposing gambling on its games, supports the 1992 federal Professional and Amateur Sports Protection Act and goes so far that it even prohibits teams from accepting advertisements from casinos with a sports book.
New Jersey Chris Christie shows off the Giants' Super Bowl XLVI trophy. (US Presswire)With only Nevada featuring legal wagering on NFL games, the league has been able to avoid conflicts with local franchises or Super Bowl sites. It stages no games in Nevada.
New Jersey Gov. Chris Christie, however, said Thursday that his state plans to allow wagering on all sports at New Jersey horse tracks and Atlantic City casinos this fall, a move that directly challenges federal law. He all but dared the Department of Justice to sue.
Jersey is home to two NFL franchises – the New York Giants and Jets – and is set to host Super Bowl XLVIII in February 2014. If successful, would Christie's move impact the NFL's decision to stage its biggest game in a state with legalized wagering, including at horse tracks just down the road from MetLife Stadium?
"Legalized sports gambling beyond where it already existed is prohibited," NFL spokesman Greg Aiello told Yahoo! Sports. "We are continuing our Super Bowl planning and do not anticipate this having any impact."
The NFL is confident in the federal law and isn't dealing in a hypothetical situation. Christie may have expressed faith in defeating the PASPA Act in court ("I have every confidence we're going to be successful," Christie said) but it still has to be done.
The league will continue to work in opposition to sports wagering in any form, Aiello said: "We are opposed to sports wagering that uses our games as bait." He noted the irony that it was a different New Jersey politician who was instrumental in getting the PASPA Act passed two decades ago.
"This act is also known as the 'Bradley Act,' " Aiello said, "for its proponent, then New Jersey Senator Bill Bradley."

Posted on: Fri, 09/07/2012 - 1:07am
Posted on: Fri, 10/12/2012 - 6:02am
''We're finding out our
''We're finding out our strengths and how to combine them,'' Gasol said. ''We have two main guys out, and they make a big difference, so we'll have to see how we play when we're full force.''
Bryant said he tweaked his shoulder while dunking on Antawn Jamison in practice Tuesday, but it didn't start hurting until later that day. He wanted to play against Portland, but the team overruled him with six preseason games still left on its schedule.[098-0[89
Posted on: Mon, 10/29/2012 - 10:40pm
To put it lightly, the first
To put it lightly, the first 10 years of Eddy Curry's NBA career have not gone smoothly since the big man was taken with the fourth overall pick by the Chicago Bulls in the 2001 NBA Draft. Two years ago, he found himself out of shape and out of the league, a drastic fall from grace after averaging double figures for six straight seasons with the Bulls and New York Knicks. The veteran spent the 2010 season on the proverbial scrap heap, but was determined to revitalize his career and image.